Add your email below to receive our
latest special offers.
We're really social






Waterside Breaks Ltd is rated 4.9 stars by Reviews.co.uk based on 1,406 reviews
Norfolk Broads Fishing Holiday Cottages & Lodges

The Norfolk Broads offers some superb fishing and is a mecca for pike anglers from all over the country. With many cottages and lodges right on the water and boat hire available throughout the Broads, fishing is one of the most popular pastimes. With over 200 miles of rivers, lakes and inland waterways stocked full of species such as pike, perch, chub, bream, roach and tench there is something for everyone.

Fishing holidays in the Norfolk Broads are very popular due to the variety, challenge and opportunity to fish from the banks or boat with ease. Why not enjoy one of many Norfolk Broads cottages or lodges with the luxury of fishing from your doorstep or close by. Ideal for both the recreational angler or expert. We can offer weekend angling breaks, midweek getaways and week long or more fishing holidays for you and your family and groups of all sizes and abilities.

Fishing Season -
The coarse fishing season runs from 16th June to 14th March the following year. Please remember the closed season applies to all the Broads and rivers from 15th March to 16th June inclusive.

For out of season fishing there are plenty of private fishing lakes and fisheries locally, do try Dilham Lakes - see details below or see Waterside Breaks fishing holidays for a selection of alternative locations to go fishing.

Fishing Licenses -

You must have a valid Environment Agency Rod Licence to fish on the waters of the Norfolk Broads. These are available from the Post Office or online, to get your rod licence instantly online go to the Environment Agency Fishing Licence. All fishermen must ensure that they have the necessary permission to fish on privately owned land and waters or those controlled by local angling clubs or on banks of tidal waters.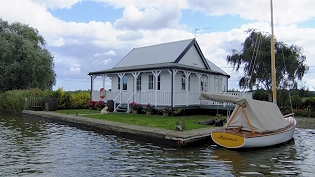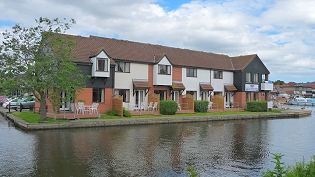 Fishing Bait and Tackle - Fishing bait, rods, reels, tackle and extensive fishing supplies are available locally from:

Wroxham Angling & Gift Centre - Station Rd, Hoveton, Norwich, Norfolk NR12 8UR, Tel: 01603 782453

In addition to supplying all fishing tackle, bait and supplies, Wroxham Angling can also offer day fishing trips by boat to a variety of local Broads. Daily fishing trips can include hire of all tackle for the day if required. Please note however that tackle cannot be hired for private fishing - only for use on the fishing days organised by Wroxham Angling Centre. For full details and prices of daily fishing trips with expert guidance, please call Wroxham Angling on 01603 782453.


Alternatively, you can visit Lathams Discount Fishing Store at Potter Heigham, close to Potter Heigham Bridge.

If you fancy trying another location for variety, there are many places where you can fish from the bank or you can hire a day boat, which are available throughout the Norfolk Broads. There are specific fishing platforms, many are suitable for easy access and wheelchair users including those at Rollesby Bridge and the boardwalks at Filby Broad. There are also fishing platforms along the River Bure near Cockshoot Broad however many of the banks offers good access to the river.


Out of season private fishing is available all year at Dilham Fishery which is located between Stalham and North Walsham. For full details, please call Dilham Fishery directly on 01692 535592. The popular and well managed fishing lake is set in 2.5 acres with a 1 acre lake and 19 swims, the lake is well stocked with rudd, carp and roach. You will need a current Environment Agency rod licence and you then pay a rod fee on site.


To ensure that everyone can enjoy fishing on the Norfolk Broads, the wetlands are a fragile environment, please remember never to discard fishing tackle or litter, as it can easily harm wildlife. If you are fishing from a Broads Authority free mooring, you must give way to boats wishing to moor, and please do not fish from a moving boat. Cast with care and respect the wildlife, the fish and others.

Useful links -
Norfolk Broads Pike Fishing & Guiding - http://www.predator-people.co.uk
Fishing Guide for the Norfolk Broads - http://www.norfolkbroads.com/explore/the-fishing-guide/
Environment Agency Fishing Licence - http://www.environment-agency.gov.uk/rod licence
UK Fishing Lodges, Cottages, Cabins & Fishing Breaks - Fishing holidays UK wide


For your ideal and wide range of Norfolk Broads cottages please do call on 01252 339020 for advice and ideas or if you wish check availability please click the button below. We look forward to hearing from you.