Book your waterside holiday with confidence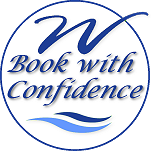 Your Covid-19 Booking Guarantee
We understand that everyone is looking to enjoy a well-earned break as soon as the current restrictions permit. You can be confident that you won't lose your holiday should you be unable to proceed as planned without contravening Government Covid-19 Regulations. We guarantee that should you be prevented from taking your holiday for your dates booked, where doing so would mean breaking current Government Coronavirus Regulations, any monies paid will be transferred to a holiday at the same location for a later date of your choosing (subject to availability). There may be a cost adjustment if you choose to you transfer your holiday to a higher price band.
Covid-19 Restrictions - Updated 17th May 2021
From 17th May, up to six people from up to 6 different households can holiday together in the same accommodation or if there are more than 6 guests, then they must come from no more than two households. In Wales, two households can holiday together from 3rd May. In Scotland, self-contained holiday accommodation in areas under Level 2 restrictions can be occupied by up to 6 guests from a maximum of three households.
If your holiday was due to commence before 12th April 2021, your operator will contact you shortly to discuss the options available to you. This will be carried out based on priority given to those whose holidays were due to commence soonest.
About your waterside holiday accommodation
A self-catering waterside holiday home is the perfect getaway during these unusual times. Your holiday cottage, lodge or glamping accommodation provides you with a relaxing self-contained holiday experience by the water. Spend quality time together with close family and friends, discovering some of the most spectacular scenery and isolated beauty anywhere in the UK. If you enjoy fishing, we can offer you a great choice of lakeside lodges or riverside holiday cottages.
Covid-19 - The new measures in place
As an industry, we have been working hard over the past weeks to make your holiday experience as safe and enjoyable as possible. This includes many changes to our normal check in procedures as well as the preparation of your cottage or lodge. We are all following the guidance and processes as set out and agreed between the self-catering industry and the UK Government (DEFRA). Each property owner has carried out a full Covid-19 risk assessment and put in place the necessary measures to ensure that your holiday accommodation is 'Covid Secure' as defined by the Visit Britain 'We're good to go' initiative.
Before you arrive - Your holiday accommodation will have been thoroughly cleaned and all bed linen and towels (where supplied) washed at a minimum temperature of 60 degrees. All touch surfaces are then disinfected with an antiviral disinfectant and in many cases, a 'fogger' is then used to spray a very fine antiviral mist over all surfaces and soft furnishings.
On your arrival - If you are given a set arrival time, this is to ensure that you are able to check-in safely with the minimum of contact with other guests. Your check in will typically be self-check-in using a key safe to provide access to your property. You will be asked to provide the names of all members of your party (where not taken at the time of booking) and you will also be asked to confirm that none of your party have experienced any of the symptoms of Covid-19 within the past 14 days (a new persistent cough, fever, loss of smell or taste or breathlessness). You and your party may be asked to confirm that you are all complying with the latest Government regulations and guidelines - in particular the number of households that your group comprises.
Inside your accommodation - To help minimise the risk of cross infection, you will find that shared items such as books, brochures and games will have been removed. You will also find specific guidance for guests to keep you safe and to protect the housekeeping teams. If you experience a problem that requires a maintenance visit, this will be carried out whilst you are not in the property (except in emergency) and each property team will use the appropriate PPE as necessary and avoid contact as much as possible.
During your holiday - Once on your holiday, you can choose to remain self-contained with your family and friends in your cottage or lodge. You are strongly advised to carry out frequent and thorough (20 seconds) hand washing every time you leave or enter your accommodation and frequently at other times during the day. You are also requested to comply with all of the other Government guidelines including maintaining a distance of 1 metre (plus) from others or where this is not possible, mitigating risk by using a face mask or other appropriate measures. Full details of the Government guidelines can be viewed here . If you or any of your party develop Covid-19 symptoms whilst on your holiday, please contact the owner or site manager as soon as possible.
Eating out - One of the great pleasures of a self-catering waterside holiday is the chance to enjoy the food and drink of the many local pubs and restaurants. These are now re-opening with suitable measures in place to comply with the current regulations. Most pubs are offering outdoor dining (where available) and limited dining inside (with pre-booking due to the restricted number of tables that can be provided to ensure adequate social distancing).
At the end of your holiday - Please vacate the property on time to allow for adequate cleaning and disinfecting for the next guests. We also ask that if possible, please strip the bed linen and place in the laundry bags (where provided). On your return home, please report any Covid-19 symptoms that develop within 14 days your holiday (dial 119) and advise the owner as soon as possible.
If you are unable to take your holiday - If you are unable to take your holiday as planned as a result of testing positive for Covid-19 or being subject to a Government mandatory lock-down or self-isolation (due to Track and Trace instructions), please contact your property owner or managing agent directly as soon as possible. Your holiday contract is direct with your accommodation owner or manager who will work with you to offer you an alternative suitable date. In some cases, where this is not possible, a refund may be offered depending upon the circumstances.
And finally... - Your waterside holiday home offers the perfect escape from the crowds. Whether fishing, feeding the ducks or simply relaxing by the water and watching the wildlife and the passing boats, you are sure to find a waterside holiday that suits your budget and requirements.