General




The Standard Glamping Pods at Loch Tay are set on a private 140 acre Highland estate, near Killin in Perthshire, in the Scottish Highlands. The Glamping Pods enjoy a beautiful setting, surrounded by woodland with views towards Loch Tay and the Ben Lawers Mountain.
Inside, the Glamping Pods are furnished with a few home essentials for added comfort and sleep up to 3 people. The Glamping Pod is priced for 2 adults. One extra person is welcome at a cost of £25 per night (children under 3 are free of charge).
Loch Tay is a very popular holiday destination in one of the most beautiful areas of Scotland, with many holidaymakers returning year after year. With such stunning scenery, beautiful mountain ranges, breathtaking lochs, excellent fishing and a huge abundance of wildlife it's not hard to see why!
Bedrooms & Bathrooms
Open plan with 4 bench seats that provide a variety of sleeping options.
Private bathroom available to rent at £10 per day (£15 refundable deposit only one available).
Pets
Pets are accepted at this property at a cost of £10 per pet (max 2).
Terms & Conditions
25% deposit is required on booking, balance is due 12 weeks beforehand.
Sorry, no smoking.
Sorry, no young groups under 25.
Glamping Pod is priced for 2 adults. Extra charges apply for additional adults and children over the age of 3.
Check in - 4.30pm & check out is 09.30am.
Weekly breaks: Fri - Fri or Sat - Sat or Mon - Mon
Weekend breaks 3 nights: Fri - Mon
Midweek breaks 4 nights: Mon - Fri
Location Information
The Standard Glamping Pods are located at Loch Tay in the Scottish Highlands. Only a short drive to the pretty village of Killin with a variety of pubs, cafes and restaurants.
The Falls of Dochart is located just outside Killin towards the western end of Loch Tay.
There are numerous attractions in the local area, including The Ben Lawers Mountain Range, Loch Tay Safaris, White Water Rafting, McQueen Gin Distillery and Castle Menzies.
The property is set in a private 140 acre Highland estate. On-site facilities include a bistro, a great range of outdoor activities and excellent fishing.
Check Availability & Book
Optional Extras
Cots and highchairs available upon request at a cost of £5 each.
Towels can be hired at £5pp.
Extra persons charged at £25 per person, per night.
Subject to availability, a private bathroom can be hired at £10 per day.
There is a firepit and BBQ onsite which can be hired for the night at a cost of £50 each or £80 for both, subject to availability. Please enquire on booking.
Terms & Conditions



Accommodation

Accommodation will be available from 4pm on the start date of your holiday (subject to unavoidable delays) and departure is no later than 10am.



Booking & Payment

Accepted methods of payment include credit or debit card. You must be at least 18 years of age before we can accept a booking from you. An initial deposit is required to secure a booking with the balance of payment then due 12 weeks prior to the start of your holiday. Glamping breaks are paid in full at the time of booking unless a special offer is available. The exception to this is New Year bookings when final payment is due no later than the 1st October regardless of booking date. If you plan to take your holiday within 12 weeks of your booking date, full payment (for full weeks and short breaks) must be made at the time of booking. Please pay your balance by the due date. We will issue one reminder only 12 weeks prior to the start of your holiday. Failure to pay will result in Loch Tay Highland Lodges treating the property as being cancelled and available for reletting.



Cancellation By You

If you want to cancel your booking, you must notify us as soon as possible and confirm this in writing by email to info@lochtay-vacations.co.uk. Provided the written notice of cancellation is received by us not less than 12 weeks before the start date of your holiday, only the deposit will be forfeited.

If we receive less than 12 weeks' notice but not less than 2 weeks' notice, you will be liable to pay the total cost of the holiday, but any optional extras will be refunded in full.

If we receive less than 2 weeks' notice, you will be liable to pay the total cost of the holiday including any optional extras.

We consider adequate travel insurance to be essential. It is a condition of your contract with us that you should take out insurance to cover you in the event of change of circumstances, illness, personal injury or death during the course of your holiday and for cancellation of it.



Changes Made By You

If you wish to change the dates of your holiday or your choice of property after confirmation has been issued then you will be liable to pay a handling fee of £35.00. Date/property changes are subject to availability and cannot be guaranteed. Unfortunately, we are unable to move booking dates or properties around within 12 weeks of arrival.



Cancellation By Us

We reserve the right to cancel your holiday. In the unlikely event of us having to cancel your holiday (except where you have failed to make full payment on time) we will offer you the choice of a full refund of all monies paid to us or the option of re-booking your holiday at a comparable standard (with you paying any additional cost or receiving a refund in respect to the price difference). Please note that any refunds due can only be made by the original payment method and not more than the original amount paid.



Changes Made By Us

Occasionally, we have to make changes to bookings. Whist we endeavor to avoid making major changes, we reserve the right to do so in exceptional circumstances. This might include offering you one of the following:
• Change to accommodation - If the level of accommodation that you booked is unavailable, we will in the first instance, endeavor to upgrade your accommodation at no extra charge to you. Where higher grade accommodation is unavailable, we will accommodate your party in the next available grade and refund the subsequent difference in cost.
• Changes in date - If the date of the booking is unavailable, we may offer you alternative holiday dates.



Holiday Insurance

We consider adequate travel insurance to be essential. It is a condition of your contract with us that you should take out insurance to cover you in the event of illness, personal injury or death during the course of your holiday and for cancellation.
• Please read your policy details carefully and take them with you on holiday.
It is your responsibility to ensure that the insurance cover you purchase is suitable and adequate for your particular needs.
We do not check insurance policies



Weather

At times we will experience adverse weather conditions. We aim to keep our driveway and main entrance clear but at times of heavy snowfall direct to- the- door access to all our accommodation may not be possible. We cannot be held responsible for travel disruptions resulting in non-arrival because of bad weather.



On Arrival

Reception is open 9am to 5pm every day. If you are arriving after 5pm please go to the main Reception where signage will direct, you to the key collection area.



The Park

Loch Tay Highland Lodges is situated in a rural Highland location so there are areas of uneven ground, natural hazards, unmade paths and limited lighting. Please therefore take special care to avoid accidents. It is strongly recommended that guests bring a torch to enhance movement around the park during hours of darkness. Please ensure you are aware of natural features such as loch, rivers etc and supervise children and pets accordingly.



Boats

We have limited space in the marina for temporary boat berths. If you wish to bring a boat on holiday with you this must be booked at least 6 weeks in advance by calling 01567 820 323. Availability of berths cannot be guaranteed.



The Restauraunt

The onsite Restaurant opens seasonally from Feb to end of October. Opening hours may vary and will be shown on the website lochtay-vacations.co.uk. Please enquire at reception.



Towels

Towels can be hired. Please request towels at the time of booking. Towels must be booked in advance we cannot guarantee the availability of towels without pre-booking. Towels are included with our premium properties.



Cot/Camp Bed Hire

Please request a cot or camp bed at the time of booking



Group Bookings

Family and friends who know each other or who travel together will be considered as making a group booking even if they have made separate bookings. The lead booker for a group is responsible for the conduct of the other members of the group and for ensuring they comply with these terms and conditions. All group bookings will be asked to pay a £150 security deposit before arrival, which will be returned on departure when all accommodation has been checked. Group bookings must be made in the name of one appointed person who will be the person responsible for the group and for making payment to LTHL. We cannot accept individual payments towards the balance for a group booking. Unfortunately, we do not accept stag or hen parties or similar groups.



Single Night Breaks

We do not offer Single night breaks. We can where availability permits offer single nights, these are not bookable more than 48 hours in advance and are subject to late availability. Please call to enquire. We are unable to offer Hot Tub properties for Single Night Breaks.



Hot Tubs

Some properties have hot tubs. On each departure all hot tubs are drained, cleaned and water replenished prior to each arrival. Although we will endeavour to have your tub ready on or within 4 hours of a 4pm arrival, if your property is a changeover then this may mean that your hot tub will not be ready for use until later on in the evening of arrival or until the morning after arrival. Please ensure you read and follow all guidelines regarding hot tub use. Any damage to hot tubs caused by misuse will be charged for. If the tub requires refilling during your stay due to misuse, we will charge the customer £50.



Children

Children remain the responsibility of their parents or guardians at all times in the accommodation, on the park grounds and during any activities. Please ensure your children are supervised at all times and make sure you always know where your children are.



Behaviour

You are responsible for the behaviour of all members of your party. Please show consideration to other guests, our staff and our location. Noisy or disruptive behaviour, wilful damage to the location or accommodation or other behaviour considered buy our staff to be inappropriate may result in us asking you or a member of your party to leave the location immediately. No refunds or compensation will be given in these circumstances and we reserve the right to claim compensation for damages or inconvenience caused. The park is family friendly and we ask all guests to respect this, especially so around the Glamping areas and to adhere to a quiet time from 10pm in the evening.

We reserve the right to refuse admission to any guest for any of this just reason. We reserve the right to evict offensive persons or pets. No refunds will be made. We reserve the right to make charges against credit cards or to invoice for damages.



Damage to Property

Your property will be inspected after departure. You are responsible for the actual costs of any breakage or damage found in the accommodation along with any additional costs that may result. We reserve the right to refuse admission to any guest for any just reason. We reserve the right to evict offensive persons or pets. No refunds will be made. We reserve the right to make charges against credit cards or to invoice for damages. Please note that all lodges on the park are privately owned, therefore each lodge although offering the same basic inventory will have individual touches placed by the owner making each property unique in some ways.



Lost Property

LTHL will not be held responsible for any items left behind or lost property. We would remind guests to please check you have taken all your belongings with you before departure. You are responsible for your personal possessions on park or in your holiday home and LTHL is not responsible for any loss or damage to these.



Smoking

Smoking is strictly prohibited in all properties and shared amenity areas. Removal of smoke odours in buildings is extremely difficult and we reserve the right to evict any guest who we suspect is smoking or drug taking in any of our properties. Charges will be made to the guest to cover costs of any cleaning, deodorising and any loss of future rental revenue, which may occur as a result of smoking within a property.



Dogs & Pets

Some properties allow dogs and pets, when booking a property, you MUST inform us at the time of booking if you wish to bring a dog or a pet. We will then be able to advise if a pet friendly lodge is available. If you book a pet friendly lodge please ensure that dogs are provided with their own bed. Pets are not permitted on furniture or beds. Guests will be liable for any damage caused or extra cleaning that may be required and you will be charged for this accordingly. Pets must be kept on a lead at all times and please do not allow your dog to foul the areas in the immediate vicinity of the lodges. All dog waste must be collected. There are dog waste bins located around the park. Dogs must never be left unattended in the lodge unless caged. We strongly recommended that you take out adequate insurance cover before you book your holiday. Please make an extra effort before leaving the lodge to vacuum up all dog hairs. Annoyance to other guests if considered unreasonable will result in eviction. Charges £30.00 per week for a dog or £10.00 per short break



Vehicles

Each lodge will allow parking for one or two cars depending upon the size of individual parking space beside your property. Please DO NOT Park on the grass, which will cause damage, or in such a way that you are obstructing another properties' access. Additional vehicles please use the main car park at the restaurant. Please note we use CCTV with Number Plate recognition; this is for your security. You should comply with the park speed limit of 5mph. We have charging points for electric vehicles on site, please enquire at reception.



Complaints

It is important to us that you enjoy your holiday and every effort has been made to ensure this. However, in the event of any concerns with your property, we as the booking agent, together with the property owner, will want to take action as soon as possible. It is essential that you contact the staff at the main reception immediately if any problem arises so that it can be resolved as soon as possible. It is extremely difficult (and sometimes impossible) to sort out difficulties unless reception is told promptly. If you report any issues to reception during your stay it can usually be resolved quickly. Under no circumstances will any refund be considered if we have not been given the opportunity to rectify any problems during the Hirer's stay. Regrettably we are unable to accept any complaints that are raised after departure and will not enter into any correspondence concerning such complaints. As we act only as an agent for the property owner, we cannot accept any legal responsibility for your holiday property. If we help to sort out a complaint, we are doing so as a gesture of goodwill in our capacity as an agent only and will have no legal responsibility to you for any refund or compensation.



Departure & Cleaning of Property

On Departure you agree to leave your accommodation clean, tidy and undamaged. The following basic level of cleanliness is required on departure. Cookers and ovens clean and fat –free. Crockery, cutlery, pans, glasses washed / dried and put away. Obvious spills and stains removed. Any equipment / furniture moved during the let is restored to original position. Bins emptied. Failure to meet this standard will result in a cleaning charge.



Departure Checks

Please switch off all heaters in the property and close all windows
Please leave the property clean and tidy
Please remove all rubbish to the bin collection point located at the top of the main driveway.
Please return your key to the main reception Please report any damage or breakages before you leave



Changes of Advertised Services or Facilities

LTHL reserve the right to vary or withdraw any on site services or facilities as advertised without prior notice.



Warranties

LTHL does not warrant and is not responsible for the accuracy of any verbal information given or statements made by any of its representatives.



Websites & Advertisements

LTHL aims to ensure that the information and descriptions provided are accurately conveyed on the official website (lochtay-vacations.co.uk) and any authorised third party websites or advertisements. There may be small differences between the actual accommodation and its description as we are always seeking to improve services and facilities. There are many unauthorised websites listing holiday accommodation and we cannot accept responsibility for the descriptions on these sites if they are inaccurate



Health & Medical Advice

Health facilities, hygiene and disease risks vary worldwide. You should take health advice about your specific needs as early as possible. Sources of information include the following: www.gov.uk/knowbeforeyougo; www.hpa.org.uk; www.nathnac.net; your GP; or a specialist clinic.



Travel Information

The Foreign and Commonwealth Travel Advice Unit may have issued health and / or safety information about your holiday destination. You are advised to check this information by visiting the FCO website directly: www.fco.gov.uk or travelaware.campaign.gov.uk. The advice on the FCO website can change so check regularly for updates about your specific holiday destination.



Events Outwith Our Control

We will not be liable or responsible for any failure to perform, or delay in performance of, any of our obligations under the Contract that is caused by any act or event beyond our reasonable control (Force Majeure Event).
Property Features
Ben Lawers mountain range and beautiful Glen Lyon on the doorstep.
Open plan room with 4 bench seats with a variety of sleeping options.
Private bathroom available to rent at £10 per day (£15 refundable deposit only one available).
Small Fridge, Kettle, Toaster, Microwave and TV.
Small table.
No Facilities inside but included access to amenities block & kitchen.
Amenities block & Campers Kitchen are 100-200m from Glamping Pods.
Electricity is hard-wired and included.
Private outside Fire Pit & picnic area (Wood or Charcoal available from reception).
Dog-Friendly (Max 2 Dogs).
Please remember to bring your own crockery & cutlery, towels and bedding as these are not supplied.
Local Fishing Information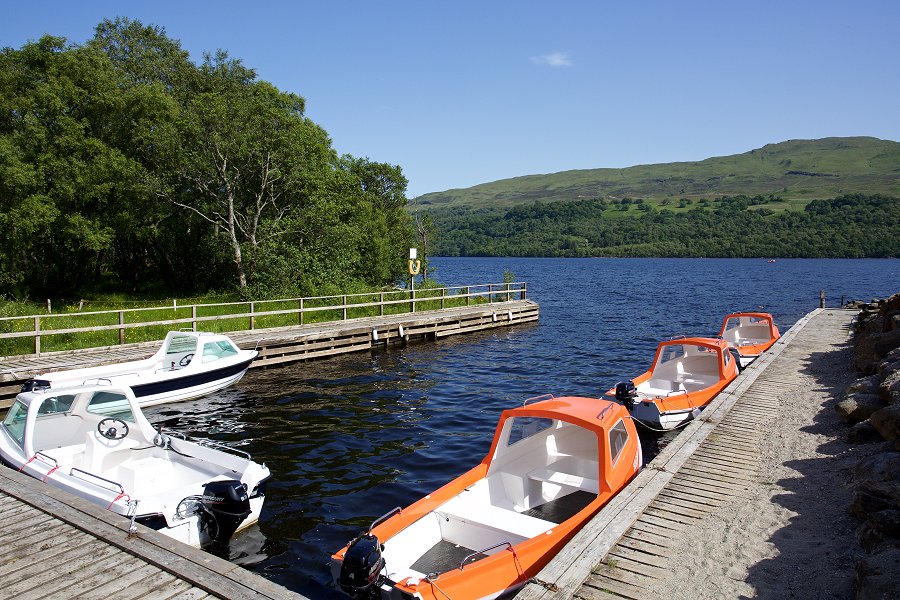 Important Information
Fishing available on-site.
The variety of fish at Loch Tay include: salmon, sea trout, brown trout, rainbow trout, grayling, pike, perch and roach.
Fishing boats are available to hire for the day and include the permit costs.
The trout fishing season runs from the 15th March - 7th October.
The salmon fishing season runs from the 15th January - 15th October. Please note there is strictly no Salmon fishing permitted on Sundays throughout the year.
Local Attractions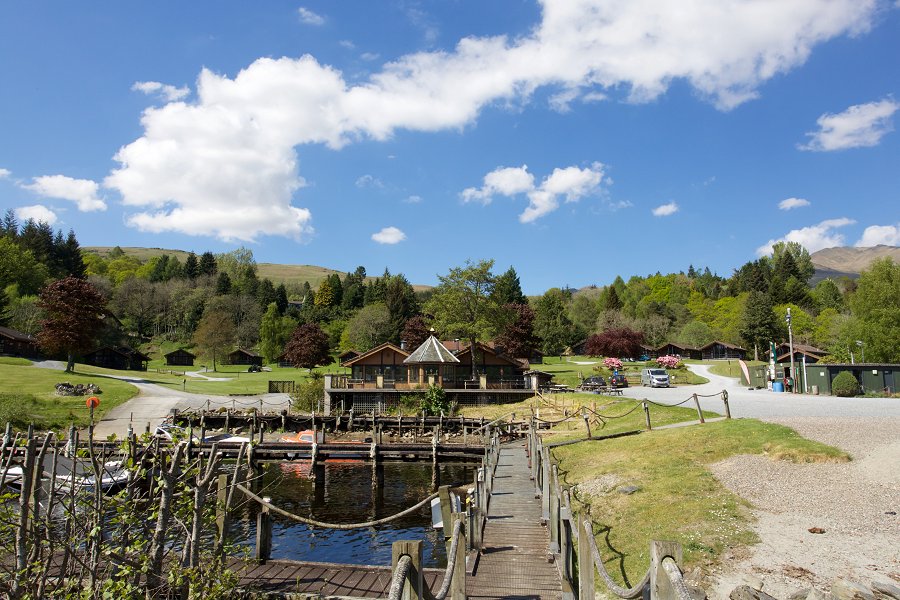 Local Supermarkets - Co-op is a 10 minute drive away in the village of Killin.
Killin Village - Only 3 miles away, there are a couple of restaurants and an Inn in the village. There is also a Co-op, a cafe and a fish & chip shop.
Falls of Dochart - Situated just outside of Killin on the western end of Loch Tay.
Ben Lawers - The highest mountain in the southern part of the Scottish Highlands.
Cycle routes at Loch Tay - There are miles of cycle routes to enjoy, both on and off road. There are trails around the Loch, Glen Lyon and Drummond Hill with various levels of difficulty.
Loch Tay - On-site at Loch Tay there are numerous activities including archery, segway, canoeing, gorge walking and loch fishing.
Scottish Wool Centre - Great visitor attraction, with a daily dog and duck show, a menagerie of animals and a food and whisky hall.
Nae Limits outdoor activites - Adventure activities including white water rafting, canyoning and quad biking.
Auchingarrich Wildlife Centre - A great variety of wild animals, children's play areas and pony rides.
Golf - There is an 18 hole golf course on-site, as well as an 18 hole putting green.
McQueen Gin Distillery - Located in Callander, Stirlingshire, tours of the distillery can be booked.
Loch Tay Safari - Travel on an RIB (rigid inflatable boat) across the loch and enjoy the stunning, dramatic scenery and get up close to wildlife in hidden areas of the Loch.
Castles - Castle Menzies - visit a spectacular 16th century castle.