General





Searock is a stylish two bedroom holiday lodge with fantastic sea views and a private hot tub on the decking area. This lodge can accommodate up to four people in one ensuite double bedroom and one twin bedroom.
Located by the sea, just a few minutes' walk from the charming village of Crail is the quiet and tranquil Sauchope Links Holiday Park. All the properties enjoy beautiful sea views towards the Isle of May and beyond.
The holiday park boasts great facilities including a large heated outdoor pool, a children's play park, an indoor children's games room with pool and table tennis tables and a shop catering for all your basic self-catering needs. A ten minute walk along the coast will lead you to the larger supermarket in Crail which also has pubs, restaurants (seafood a specialty!) and a picturesque harbour. There is also a sandy beach at Crail from which you might catch a glimpse of the dolphins!
Sauchope Links is popular with keen golfers, with the seven golf courses managed by St Andrews Links Trust being just 20 minutes away. There is also a variety of other activities nearby, including nature walks, historic sightseeing and kayaking at East Neuk. If you wish to travel slightly further afield to discover the delights of Scotland's historic capital city then Edinburgh is only 80 minutes away by car.
Bedrooms & Bathrooms
Kingsize double bedroom furnished with a TV & en-suite shower room, W/C & hand basin.
Twin bedroom.
Family bathroom with shower over bath, W/C & hand basin.
Pets
Pets are not accepted in this lodge.
Terms & Conditions
£100 deposit required on booking, balance due 12 weeks beforehand.
Check in - 4.00pm & check out is 10.00am.
All bedding, bed linen, bathrobes & towels are provided.
Beds are made up upon arrival.
Prices includes electricity & gas.
Cot & high chair available on request.
Sorry no smoking.
We regret that stag, hen and same sex celebratory groups are not accepted at this location.
Weekly breaks: Fri - Fri or Mon - Mon
Weekend breaks 3 nights: Fri - Mon
Midweek breaks 4 nights: Mon - Fri
Location Information
Heated outdoor swimming pool - open from June onwards (summer months only & weather permitting).
Indoor games room with pool table & table football.
Rocky shore to explore.
Childrens play area.
Washing & launderette facilities.
Small on-site shop for basics.
Local supermarket is approximately a 10 minute walk along coastal path.
Picturesque village of Crail with good pubs, harbour, restaurants & shops, only a short walk away.
St Andrews - 10 minutes drive approx.
Edinburgh - 80 minutes drive approximately.
Check Availability & Book
Optional Extras
Cot & high chair available on request.
WIFI available - The following charges apply per device - 1GB = £3 (To use within 3 days), 3 GB = £8 (To use within 3 days), 5 GB = £12 (To use within 7 days), 10GB = £19.50 (To use within 2 months)
Terms & Conditions
ACCOMMODATION
Accommodation will be available from 4pm on the start date of your holiday (subject to unavoidable delays) and departure is no later than 10am.
BOOKING AND PAYMENT
Accepted methods of payment include credit card, debit card or a cheque. You must be at least 18 years of age before we can accept a booking from you. A deposit of £100.00 is required when you make a booking for full weeks. The balance of payment is then due 10 weeks prior to the start of your holiday. Short breaks are paid in full at the time of booking unless a special offer is available. If you plan to take your holiday within 8 weeks of your booking date, full payment (for full weeks and short breaks) must be made at the time of booking. Please note that non-payment of the balance by the due date (10weeks prior to the start of your holiday) will result in Sauchope Links Park treating the property as being cancelled and available for re-letting. No reminder will be issued for the final balance.
BOOKING CANCELLATION
We strongly advise that you take out insurance protection against an unavoidable cancellation of your holiday. If you do have to cancel please inform us immediately whereupon we will endeavour to re-let the property. If we do re-let the property we will refund you the amount we have re-let property for minus a £35.00 admin charge (please note the balance amount you may receive from a re-let may not be the full amount you originally paid as the property may be discounted in order to facilitate a re-let). We cannot guarantee the property will be re let. If we are unable to re-let the property Sauchope Links Park will not refund the balance. It may be possible to move your booking to an alternative date but we cannot guarantee this. An admin fee of £35.00 will apply to any booking change.
BOOKING CHANGES
If you wish to change the dates of your holiday or your choice of property after confirmation has been issued then you will be liable to pay a handling fee of £25.00 per booking. It is not possible to rearrange your holiday less than 8 weeks prior to its commencement. Date/property changes are subject to availability and cannot be guaranteed.
DEPARTURE AND CLEANING OF PROPERTY
On Departure. You agree to keep the accommodation clean and tidy as found and leave the accommodation in a similar condition. The following basic level of cleanliness is required on departure. Cookers and ovens clean and fat –free. Kitchen floors swept. Crockery, cutlery, pans, glasses washed / dried and put away. Toilets cleaned. Carpets vacuumed. Obvious spills and stains removed. Any furniture moved restored to original position. Bins emptied. Failure to meet this standard will result in a cleaning charge.
DAMAGE TO PROPERTY
You are responsible for the actual costs of any breakage or damage in or to the accommodation along with any additional costs that may result (including our Handling Charge ) which are caused by you or your party. We reserve the right to refuse admission to any guest for any of this just reason. We reserve the right to evict offensive persons or pets. No refunds will be made. We reserve the right to make charges against credit cards or to invoice for damages.
BEHAVIOUR
You are responsible for the behaviour of all members of your party. Please show consideration to other guests, our staff and our location. Noisy or disruptive behaviour, wilful damage to the location or accommodation or other behaviour considered by our staff to be inappropriate may result in us asking you or a member of your party to leave the location immediately. No refunds or compensation will be given in these circumstances and we reserve the right to claim compensation for damages or inconvenience caused. The park is family friendly and we ask all guests to respect this and adhere to a quiet time from 10pm in the evening.
CHILDREN
Children remain the responsibility of their parents or guardians at all times in the accommodation, on the park grounds and during any activities. Please ensure your children are supervised at all times.
SMOKING
Smoking is strictly prohibited in all properties. Removal of smoke odours in buildings is extremely difficult and we reserve the right to make an additional charge if it is found that smoking has been allowed.
GROUP BOOKINGS
Unfortunately we do not accept stag or hen parties or similar groups.
CHANGE OF PROPERTY
The accommodation you originally booked may change due to unavoidable circumstances. SHP reserves the right to change your accommodation but your alternative will not be downgraded. In the event that the property becomes unavailable for reasons beyond our control every attempt will be made to make other suitable arrangements or all payments made will be refunded. Our liability will not extend beyond this.
COT/CAMP BED HIRE
Please request a cot or camp bed at the time of booking.
LOST PROPERTY
Sauchope Links will not be held responsible for any items left behind or lost property. We would remind guests to please check you have taken all your belongings with you before departure.
TOWELS
Towels can be hired. Please request towels at the time of booking. Towels must be booked in advance we cannot guarantee the availability of towels without pre-booking.
DOGS & PETS
Some properties allow dogs and pets but most do not, therefore it is essential that, when booking a property, you MUST inform us at the time of booking if you wish to bring a dog or a pet. We will then be able to advise if a pet friendly lodge is available. If you book a pet friendly lodge please ensure that dogs are provided with their own bed. Pets are not permitted on furniture or beds. Guests will be liable for any damage caused or extra cleaning that may be required and you will be charged for this accordingly. Pets must be kept on a lead at all times and please do not allow your dog to foul the areas in the immediate vicinity of the lodges. All dog waste must be collected. Dogs must never be left unattended in the lodge unless caged. We strongly recommended that you take out adequate insurance cover before you book your holiday.
CHANGES OF ADVERTISED SERVICES OR FACILITIES
Sauchope Links Park reserve the right to vary or withdraw any on site services or facilities as advertised without prior notice.
WEBSITES AND ADVERTISEMENTS
Sauchope Links Park aims to ensure that the information and descriptions provided are accurately conveyed on the official website (www.largoleisureholidays.co.uk) and any authorised third party websites or advertisements. There may be small differences between the actual accommodation and its description as we are always seeking to improve services and facilities. There are many unauthorised websites listing holiday accommodation and we cannot accept responsibility for the descriptions on these sites if they are inaccurate.
WEATHER
At times we will experience adverse weather conditions. We cannot be held responsible for travel disruptions resulting in non-arrival because of bad weather.
VEHICLES
Each lodge will allow parking for one or two cars depending upon thesize of individual parking space beside your property. Please DO NOT park on the grass, which will cause damage, or in such a way that you are obstructing another properties' access. Additional vehicles please use the main car park at the Reception.
COMPLAINTS
It is important to us that you enjoy your holiday and every effort has been made to ensure this. However, in the unlikely event of dissatisfaction with the property, you must contact the reception as soon as possible so that the opportunity to rectify the problem is given. Under no circumstances will any refund be considered if we have not been given the opportunity to rectify any problems during the Hirer's let. Once a holidaymaker has returned home it is very difficult to investigate complaints of any nature. Regrettably we are unable to accept any complaints that are raised after departure and will not enter into any correspondence concerning such complaints.
Property Features
Kingsize double bedroom furnished with a TV & en-suite shower room, W/C & hand basin.
Twin bedroom.
Family bathroom with shower over bath, W/C & hand basin.
Open plan living, dining & kitchen area.
32" TV.
Electric fire.
Sound system that connects to most smart phones.
Fully equipped kitchen - dishwasher, oven, fridge, freezer, microwave & toaster.
Dining table with seating for 4.
Patio doors open onto a furnished decking area with private hot tub & sea views.
Parking available for 1 car alongside - additional cars can be parked in the main car park (no high sided commercial vehicles allowed).
Prices includes electricity & gas.
All bedding, bed linen, bathrobes & towels are provided.
Sorry no smoking.
Pets are not accepted in this lodge.
WIFI available - The following charges apply per device - 1GB = £3 (To use within 3 days), 3 GB = £8 (To use within 3 days), 5 GB = £12 (To use within 7 days), 10GB = £19.50 (To use within 2 months)
Local Fishing Information
There is no fishing available at this location.
Local Attractions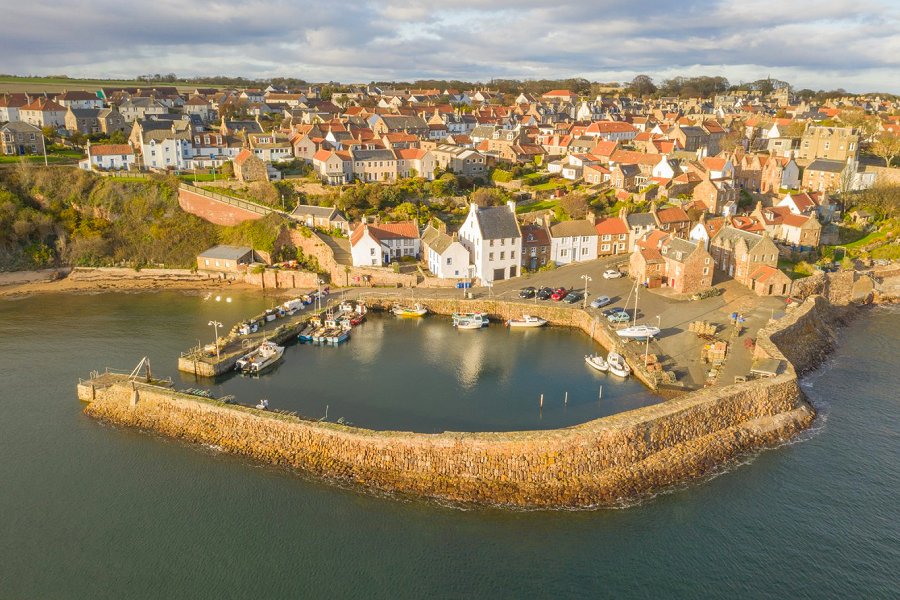 Edinburgh Zoo - approx. 1 hour 15 mins.
Blair Drummond Safari and Adventure Park - Great family attraction with over 350 rare & exotic animals. Attractions include drive through reserves, a boat trip around chimp island, sea lion presentation & bird of prey displays.
Kellie Castle & Garden National Trust - Castle dating back to 14th century decorated in a Victorian style wtih Arts & Crafts garden (15 minute drive).
Scone Palace - Stately home rich in Scottish History located above the River Tay in Perthshire, approx. 1 hour 15 mins.
Cairnie Fruit Farm - Farm shop, cafe, pick your own, children's play area & a maze, approx. 35 mins.
St. Andrews Farmers' Market - 1st Saturday of every month 9am - 1pm, approx. 20 mins.
St Andrews Aquarium - approx. 25 mins.
Scotland's Secret Bunker - 6 Miles from St Andrews is RAF Troywood, a bunker from the cold war conflict.