Edinburgh Fringe Festival – Scottish Holiday Lodges and Cottages
Edinburgh Fringe Festival – Scottish Holiday Lodges and Cottages
First created in 1947 when a number of theatre companies turned up uninvited to what was then the Edinburgh International Festival and decided to perform anyway, the Edinburgh Fringe Festival has grown to become the largest arts festival in the world. It's famous for launching the career of many an actor and comedian, and in 2011 the event last 25 days encompassing 41,000 performances by 21,000 performers from 60 nations across 258 venues. More than 1.8 million tickets were sold for various Fringe events, but with the number of free and impromptu shows taking place, there's no real way of knowing exactly how many people actually visited the festival from outside Edinburgh, although it's thought to be roughly equivalent to the population of the city itself.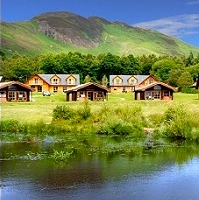 One of the best things about the Fringe Festival is its democratic approach, in that anyone can turn up and perform; there's no jury or selection committee. Whilst comedy represents the largest share of performances, there are many other theatrical disciplines on show from operatic musicals to physical theatre and everything in between, as well as plenty of exhibitions and cultural events. Many performers have gone on to bigger and better things after getting their break at the Fringe, including Hugh Lawrie, Stephen Fry, Emma Thompson, Rowan Atkinson and many more.
Some of the hotter tickets are often like gold dust at the festival, but many of the most seminal performances over the years have been off the beaten track. Indeed, given the general theme of participation, you don't actually need a ticket for anything in order to be able to enjoy what the festival and Edinburgh at large has to offer, as well as the good hospitality of the Scots.
The Fringe Festival isn't the only event in Edinburgh; Burns Night, Hogmanay, the Beltane Fire Festival and the Edinburgh International Book Festival are just some of the many parties and events that happen throughout the year in Edinburgh. The city is steeped in history too, with so much culture and heritage to take in, and combining traditional architecture with the modernity of a 21st century city.
One of the best ways to experience the Edinburgh Fringe Festival, as well as Edinburgh itself and the surrounding area at large, is with a stay at one of the many Scottish log cabins and holiday lodges available at Waterside Breaks. We provide holiday lodges all across the UK from self catering Isle of Wight holidays to Norfolk Broads holidays, holidays in Wales and much more. We've got a huge range of picturesque properties to choose from, including a wide selection of log cabins in Scotland, allowing you to experience the very best that the country has to offer in total comfort.
About Us: Waterside Breaks specialises in holiday cottages and lodges by water throughout the UK