Happy New Year from Waterside Breaks Holidays Cottages
Waterside Breaks has continued to grow throughout 2011 taking on a number of lovely new holiday cottages throughout the year.  We have invested significantly in additional web marketing, social networking, 'last minute' deals & offering new holiday options to all our customers. We would like to wish you all the best for 2012.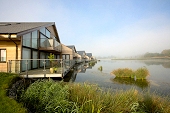 New web pages include:
Last Minute Special Offers – Latest deals, offers & late availability
Romantic Breaks – Beautiful locations to escape & relax – hot tubs, amazing views, etc.
Cottages & Locations for Large Groups – Great for groups, family celebrations & birthdays
Fishing Holidays – Ideal holiday locations for fishing breaks
Disabled & Wheelchair Friendly Cottage Holidays
The 2011 holiday market place has seen quite a change in customer activity and booking habits. Many more have stayed at home this year with an increase in demand for high quality holiday properties.
Generally we have seen many more customers booking later than usual and looking for last minute deals & offers. Short breaks have been offered by many owners during the peak summer weeks with surprisingly good results and consequently increased overall business. Many owners have adapted from traditional practices to generate new business. Flexibility & adaptability seems to have been the key to generate new bookings.
Most requested requirements / facilities for 2011:-
Premium luxury waterside cottages & lodges
Short Breaks during Summer Dates / Xmas & New Year
WiFi
Open Fire / Wood Burning Stoves
Free or optional day boat
Romantic Lodges & Breaks
Fishing Lodges – On site and specialist requirements
Click here to sign up to our Facebook Page or visit or new Waterside Breaks Blog page.
We thank all our customers for their business during 2011 and we wish you all a very successful 2012.
All at Waterside Breaks
About Us: Waterside Breaks specialises in holiday cottages and lodges by water throughout the UK