Waterside Breaks – Spring 2013 Owners Newsletter
Following the recent launch of our newly designed website www.watersidebreaks.com back in January we have received some very good customer and owner feedback to date. This sadly has not come without some anguish too!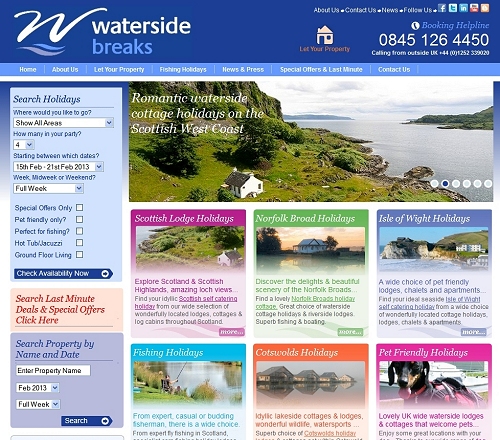 For no apparent reason we became an overnight 'best kept secret' in some areas and disappeared almost totally from a number of the natural listings in Google which we had invested so much time and effort in developing over the years.
This had meant that we have seen a worrying drop off in website activity and enquiries in some regions by up to 50% which has been very frustrating. In some other areas we are well up which has proven to be very encouraging. This has not been helped also by a quiet start to the 1st quarter of 2013 in many regions across the country.
To help catch up on lost ground do be assured we have been redoubling our efforts. This includes a significant increase in marketing activity, advertising and burning of the proverbial 'midnight oil' on many evenings. This is helping us to reclaim our previously high page rankings and generate new enquiries & bookings throughout the UK. Watch this space!
Social Networking – In addition we have increased also our activity all the various social network pages such as Facebook, Twitter, LinkedIn, Pinterest & News blogs etc.  These will include all the latest news, articles & sharing of ideas and features, to see these do set yourself up to follow our Waterside Breaks Facebook, Twitter  & News Blog pages
Newsletter – Do also sign up to our Newsletter & Email Offers if you have not done so already. The link to do this can be found on the left hand side of our home page at www.watersidebreaks.com
2013 Market Trends & Statistics
Following a challenging 2012, 2013 has followed a similar pattern to date but sadly without the warm early season & sun. Whilst bookings have been coming in consistently we have seen a significant drop off in short breaks taken to date which largely has been down to the weather. The cold and wet conditions apparently has not helped encourage bookings to date and some holiday cottage agencies have been down by 30% or more.
There are a number of other trends & statistics we are seeing and these are being confirmed across the market:
The luxury market has increased – exclusive top end holiday cottages & lodges are booking well and a long way in advance
The demand for properties with hot tubs has increased. Owners are able to charge a premium for this luxury extra and create good all year round bookings
More owners have opted for flexible short breaks and more flexible start dates out of season
There is a rise in customer expectations as they are looking for a minimum of 'home from home'
WiFi is becoming a MUST have and deal breaker in many cases!
Value for money is key as the customers is demanding more from their holiday
Customers are booking much later and definitely looking for 'Last Minute Deals' bargains and requesting discounts at point of booking
People don't take too long before booking a holiday once in the market to book – one in five (21%) book within a week
65% book their holiday within a month of starting to look
More customers are requesting shorter breaks than a week during the classic school holidays.
There is a healthy increase & interest in overseas visitors coming to the UK in 2013
More families are 'sharing' their accommodation with friends and family to keep costs down
29% of the UK population are planning to stay in the UK in 2013, 19% are planning to stay in self catering accommodation*
The top three influencing factors affecting choice of holiday are – 'price', 'weather' & 'quality of accommodation' *
42% say websites play a big part in their holiday choice & 36% say 'friends' recommendations play a large part in their choice*
*Source Travel Supermarket, Travel Trends Tracker – Feb 2013
There is definitely still a good market though it is a very competitive market out there. We are still very busy receiving enquiries though converting them is proving to be a somewhat tougher than usual.
Our 'Last Minute & Special Offers' page has generated many good late booking enquiries and we are happy to put up those late deals and cancellations. Do let us know if you have any offers you wish us to promote.
Thank you to everyone whom has sent through new photos & fresh content so we can best showcase and highlight your properties. A number of these have been shown on the Waterside Breaks Special Offers & our Facebook pages too
Let us hope that is the last of this cold & wet weather and that we can all look forward to sunnier and warmer days ahead and plenty of good holiday bookings too.
All at Waterside Breaks
About us: Waterside Breaks specialises in holiday cottage & lodges by the water throughout the UK.