Top Five Reasons You Should Visit Scotland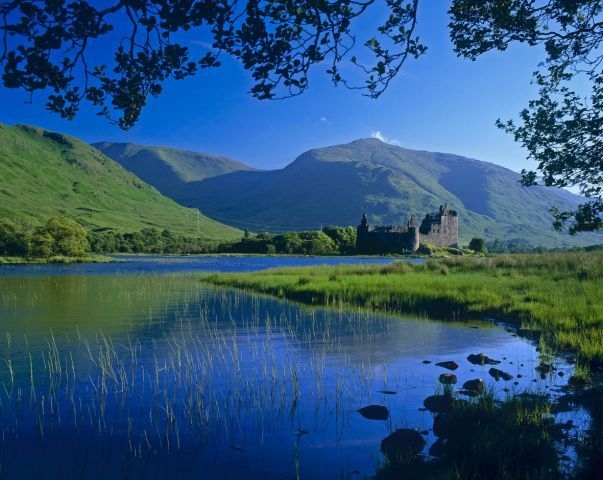 Spring has finally arrived and warm weather is hot on its heels, so why not take a look at Scotland for your holidays this year? Over the next few months you could be shopping in Edinburgh, having a wee dram at one of Scotland's many distilleries, or sampling Scottish history and taking long walks in the highlands.
If you're still unsure, we've created a guide to the very best Scotland has to offer: from its famed cultural institutions such as the Edinburgh festivals, as well as breathtaking scenery, to world-class fishing opportunities for anglers and the unique spectacle of the highland games.  So here we present out Top 5: Reasons you should visit Scotland.
1. The Scenery
Over the course of this blog it will become apparent that 'unique' is the best word to describe Scotland as a holiday destination, and the geography of Scotland is no exception to this.
From Ben Nevis, the Shetland Islands and Loch Ness to Glencoe, Loch Lomond and the Cuillin Hills, Scotland is world-renowned for possessing breathtaking scenery and areas of stunning natural beauty.
The scenery makes Scotland the perfect destination for hiking enthusiasts, couples looking for romantic walks together, and even pet-owners. If you're an angler looking for a fishing holiday, Scotland's lochs and freshwater rivers are among the best in the world.
Setting up home in a waterside holiday cottage, log cabin or holiday lodge in Scottish countryside is a fantastic opportunity to immerse yourself in some of the most breathtaking natural scenery in the world
2. The Culture
Scottish culture is rich and diverse, and is in itself a great reason to visit the country.
The Edinburgh Festival that runs between March and December each year is a collection of cultural festivals, and is a huge tourist attraction.
The biggest draws are the famous Edinburgh Military Tattoo, the Edinburgh International Festival and the Edinburgh Festival Fringe – the world's biggest arts festival. But there are of course a whole host of other events, including the Edinburgh International Science Festival, the Film Festival, the Children's Festival, and the Jazz and Blues Festival.
Aberdeen, Edinburgh and Glasgow all have thriving live music scenes and exceptional nightlife; the best night of the year being Scotland's New Year's Eve celebrations – 'Hogmanay'.
Scotland is also a hub of sporting passion and culinary brilliance…but more on this later.
3. Sport
For many people, taking in the spectacle of a sporting fixture can be a major part of the holiday.
Therefore it is only right to say that there are few nationalities that take sport as seriously at the Scottish do, and few sports encapsulate this passion better than Football. If you're here between August and May, a Scottish Premier League fixture is a great way to sample Scottish culture.
But football isn't all Scotland has to offer. In February and March Edinburgh hosts the Six Nations rugby tournament, and the Melrose Rugby Sevens tournament – the oldest in the world – takes place in April.
For a one-of-a-kind sporting experience, the Highland Games are held across Scotland each year. The games are a celebration of Gaelic culture and the biggest event, the Cowal Highland Games, attracts 3,500 competitors and regularly draws crowds of more than 15,000.
4. Active Lifestyle
If you're not content with sitting in the stands, Scotland has much to offer those who live an active lifestyle.
For such people, the Scottish highlands offer some of the best walks in Britain; making them an unusual but ideal destination for couples looking for a walking holiday together.
Additionally, between the River Dee, Spey, Tay and Tweed, Scotland is home to some of the best fishing rivers in the world. Anglers from the world over come to Scotland each year in order to catch salmon and trout in these famous fishing locations.
So if it's a fishing holiday you're looking for, look no further than the Scottish Highlands with many cottages and lodges being right by the water.
5. The Food
Scottish Cuisine is traditionally viewed as being alarmingly unhealthy, and not without good reason. The Scottish propensity for deep frying anything and everything (see: deep fried chocolate bars, pizza, and ice cream) is world-famous.
But, although the very thought of eating a chocolate bar or a slice of Pizza coated in batter is alien to most of us, they both taste far better than they have any right to.
Besides, you won't find a more unique culinary experience anywhere else in the world.
Looking beyond the deep fat fryer, Scotland has no shortage of unique delicacies. Haggis, served with neeps and tatties (translation: turnips and potatoes), is perhaps the ultimate Scottish delicacy.
Scotland is also home to the scotch pie, the Full Scottish Breakfast (like the Full English Breakfast, but with black pudding, square sausage and 'tattie scones') and world-class seafood on the Scottish West Coast and fresh wild salmon easily available.
About Us:
Waterside Breaks have a large range of holiday lodges, log cabins and cottages by water situated across Scotland and the rest of the UK.
For a full listing of holiday lodges, and log cabins holidays in Scotland, check out our website now. For further holiday ideas and recommendations for a variety of destinations across the UK, you can contact us on 01252 339020, or visit us here at www.watersidebreaks.com