Aquatic Adventure Holidays in the Norfolk Broads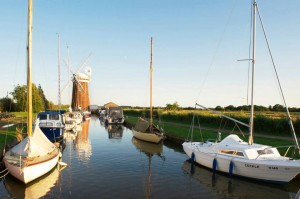 The Norfolk Broads are a collection of waterways that span over 200 miles. For a company called 'Waterside Breaks' this is a match made in heaven, no?
The waterways and expansive areas of natural beauty make the broads a great holiday destination, and the best way to appreciate them is to take to the water and indulge in a spot of fishing, kayaking or sailing. We don't, for obvious reasons, recommend swimming!
The Norfolk Broads offer some of the best fishing in the United Kingdom, with a fishing season that runs from June through to March of the following year and waters that include a diverse range of fish including pike, bream, roach, perch, chub and tench. There are a number of places on the broads where you can pick up fishing bait and tackle.
Watersports are, particularly in the summer, a fantastic way to enjoy the broads and there are a number of activities that more adventurous holiday goers can get involved with; kayaking, canoeing and even windsurfing are popular options.
You can also captain your own boat and hire one for a day or more. Explore the broads on the water and stop for lunch or a drink (but not too many!) at a number of pubs and inns on the banks of the broads. If you fancy a less hands-on approach, there are a number of river cruises that operate on the main rivers Bure, Waveney and Yare including this American-style paddle steamer.
Waterside Breaks have a number of waterside properties on the Norfolk Broads that are ideal for those looking for a nautically-themed holiday or just enjoying watching the world float by:
These are just a few options taken from our expansive range of Norfolk Broads holiday cottages – for a full range of properties please visit our homepage.
Blog Focus: Norfolk Broads Cottages
About us: Waterside Breaks specialises in holiday cottage & lodges by the water throughout the UK.