Fun Activities to Enjoy in the Norfolk Broads
Fun Activities to Enjoy in the Norfolk Broads
Some people go on holiday to relax and do as little as possible, but others want to fill their days with excitement and thrills by trying things they haven't tried before. You may not think it at first, but there are plenty of fun activities to do in the Norfolk Broads, and the variety means there is something that's right for everyone. Whether you want to take to the water in a canoe, stay on dry land and enjoy a spot of fishing, or cycle through the countryside, it's all possible in the Norfolk Broads.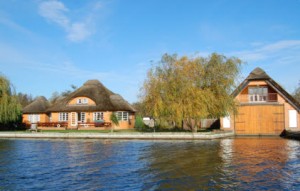 Norfolk Broads Watersports
If excitement is what you are after then pick from the different watersports available to try in the Norfolk Broads. Kayaking and canoeing is perfect if you're energetic, and it is a great way to explore the Broads on the water. If that seems a bit too close to the surface, then sailing around the lakes and waterways is another great way to spend a day. You can even try a spot of windsurfing if you're really adventurous. A great place to try all these watersports is at Whitlingham Country Park, where you can also enjoy refreshments at the café, or take your own lunch and eat in the picnic area. Exploring the Norfolk Broads gets much more exciting when you take to the water!
Fishing in the Broads
The lakes and waterways of the Norfolk Broads are jam packed with all sorts of different fresh water fish. You'll be able to hook fish like pike, eel, bream, perch, tench, and rudd, if you have the patience. Depending on which you prefer, you can fish from a boat on the water, or stay on solid ground and fish from the shore. Barton Broad and Wroxham Broad are great places to hire a boat to fish from, and trips can be easily organised. If fishing from the land is your preference, you can fish the River Thurne from places like Martham and Potter Heigham for free if you have your own rod and tackle.
Cycling around the Norfolk Broads
If staying dry is an absolute must while you explore the Norfolk Broads, then hiring a bicycle and cycling around the dedicated cycle routes is a great option. There are plenty of bike centres where you can hire a bike, and some different bikes to choose from. Whether you want to race a round on a mountain bike, or take it easy with a partner on a tandem bike, the choice is yours. You can also hire children's bikes and baby seats, so cycling is a great option for a family trip in the Norfolk Broads. How far you ride and what route you take is entirely up to you, and there is a selection of long and short routes to choose from, so you can tailor a day out cycling to your group's capabilities. From the more experienced cyclists, the Bure Valley Cycle Path is a long route that offers some spectacular views of the Broads. Just pick up a bike trail leaflet before you set off and you'll have all the information you need.
Spotting Wildlife in the Norfolk Broads
Birdwatchers flock to the Norfolk Broads every year to spot special birds, and most of them leave satisfied. Many rare breeds of birds live in or migrate through the Norfolk Broads, and it is recognised as an important wetland for birds, not just in the UK, but across the world. There are some really special nature reserves in the Broads, and it is home to over 25 Separate Sites of Scientific Interest. Birds like the Bittern or the Marsh Carrier are popular ones to spot, but it's not just birds that you will see in the Norfolk Broads though, because many different animals call it home. You may spot some inquisitive Otters, or even be lucky enough to see Britain's rarest butterfly, the Swallowtail.
Planning Your Trip
Once you've arrived in the Norfolk Broads it is easy to start enjoying the activities on offer. Arranging to stay in a Norfolk Broads holiday cottage is simple with Waterside Breaks. We will check all the prices and availability of holiday cottages in the area, and then let you know what your options are. Just tell us when you want to go and what your budget is and we'll take care of the rest. We understand how important it is for you to be relaxed while on holiday, and all the cottages are protected with holiday home insurance for your peace of mind. If you are struggling to decide where to take your loved ones for a break, with so much to do and see here, a Norfolk Broads cottage holiday is an ideal choice.
About us: Waterside Breaks specialises in marketing, promoting and offering high quality Scottish log cabins, Scottish holiday cottages and Norfolk Broads holidays.  We offer personal service to all our customers whether they require log cabins in Scotland, or a self catering Isle of Wight holiday.