Waterside Breaks Makes New Waves
Waterside Breaks Makes New Waves –  www.watersidebreaks.com 
We are delighted to announce the launch of the new design and restyled website.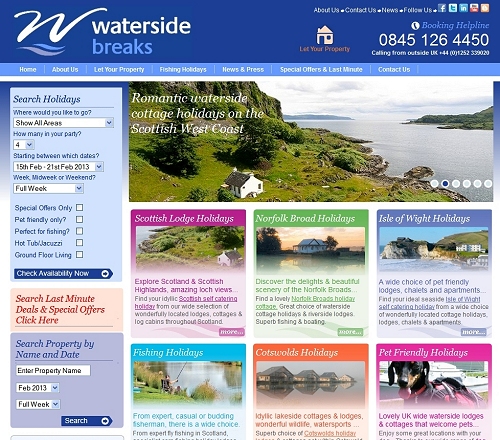 Following a great deal of customer research and consultation with many owners, we have taken on board many constructive suggestions over the last year. Thank you to everyone for their input and ideas.
As a result we have totally redesigned the layout & navigation of our website giving it a fresh new look, feel & different style. Initial customer feedback to date has been positive, however there is always more to do to improve our service and progress yet further. We certainly intend to keep listening to our customers and owners alike to help continue to grow our business.
Looking at the holiday bookings that Waterside Breaks have taken over the last year, we have created web pages for different interests & requirements and the most popular regional choices, making it easier for customers to choose their holiday.
The most popular UK regions for 2012 were:-
In addition, the most popular options included:-
Over the last year we have added a significant number of lovely new waterside holiday cottages, lodges, fishing cabins across the UK. These include stunning new canalside cottages in Scotland, luxury Lakeside Cotswolds Cottages to cosy Devon fishing lodges with luxury hot tubs.
In an ever increasingly demanding and competitive holiday market we aim to provide our customers even greater choice when selecting their holiday. We aim to provide even more selection criteria so our customers find exactly what they are after. This will include such options as open fires & log burning stoves, WiFi, doorstep fishing, swimming pool, free day boats, luxury, romantic, sea views, etc.
The Waterside Breaks 'Facebook' page has over 2,500 followers and almost 400 followers on Twitter too!  We are keen to use social media to extend any new offers and deals that you may have. We intend to send out regular newsletters throughout 2013 to keep our customers informed with all the latest deals, offers, updates and new properties. Do sign up yourselves to our Facebook, Twitter and 'Email Offers' to ensure you receive these.
About us: About us: Waterside Breaks specialises in holiday cottage & lodges by the water throughout the UK.  We offer personal service to all our customers.