Norfolk Broads Cottage Holidays – Fun For The Whole Family
The Norfolk Broads comprise an area encompassing 7 rivers, 63 broads and over 200 miles of navigable waterways. This makes it ideal for boating, fishing holidays and watersports, but also so much more than that, hence our title Norfolk Broads Cottage Holidays – Fun For The Whole Family. With plenty to do both indoors and out, the waterways that make up the Broads are only the starting point for holiday makers of all ages.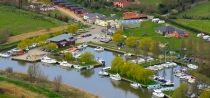 Known for being one of the driest and sunniest counties in the UK, and with vast amounts of coastline to enjoy, Norfolk has some of the best beaches in the country. Great Yarmouth, Hunstanton and Sheringham are just a few of the many East Anglia beaches that have been awarded Blue Flag status for cleanliness and water quality. Further inland there's even more to discover for Mum, Dad and the kids.
Aside from fun on the beaches and waterways there's plenty else to do further inland, from grown up things like museums, cathedrals, galleries, brewery tours and heritage sites to more kid friendly stuff like zoos, adventure parks and steam railways. Banham Zoo is home to over 1000 different animal species including tigers, meerkats, penguins, leopards and much more. Norfolk also has not one, not two but three heritage railways running through the heart of the Broads and exhibiting the very best of the Norfolk countryside.
If you're feeling especially brave there's more than enough in the form of adventure to indulge your inner thrill-seeker too. The 1933 wooden rollercoaster on the seafront at Great Yarmouth and the 120 ft Wipeout rollercoaster at Pleasurewood Hills Theme Park in Lowestoft are just two of the many attractions Norfolk and Suffolk have to offer. Norfolk Broads holidays aren't complete without experiencing the great scenery, and one of the best ways to do that is to zoom through it on a zip line suspended high above the ground. Extreeme Adventure and Go Ape! offer aerial assault courses set amid the Norfolk woodland that are as terrifying as they are fun.
If the kids are safely taken care of, Norfolk Broads holidays provide plenty for the grown-ups to enjoy too, with great pubs and restaurants dotted throughout the area. There are also regular food and drink festivals to appreciate, as if you needed an excuse! It stands to reason that a county famous for exporting Delia and mustard should know a thing or two about cooking, which is why it's no surprise that Norfolk cuisine is well known for its outstanding quality.
If you're looking at Norfolk Broads holidays then Waterside Breaks have a huge range of cottages and beach houses throughout the area, as well as properties across the rest of the country too.
About Us: Waterside Breaks specialise in waterside holiday cottages & lodges across the UK. Great choice of romantic breaks, fishing breaks and family holidays and wonderful places to stay.