Our Lakeside Holiday Lodge in the Cotswold Water Park
The boys had spotted a canoe under the decking area overlooking the lake. We had not even unpacked and we were off. Pushing the big 'three man' canoe out from our jetty came with a few alarms as I almost fell in when the oar got stuck in the soft bank but we made open water.
The views across Somerford Lake were stunning, the coots darted out of the reeds, ducks and geese everywhere and the swans gazed across at us as they serenely glided by, a couple of islands beckoned invitingly too. Beautiful blue dragonflies and many species of butterflies fluttered by too, amazing nature was just everywhere. Within a few paddle strokes were looking back at our holiday lodge, our home for the next week.
Traditional Cotswold stone holiday cottage on the lakeside set within Mill Village near Somerford Keynes in the Cotswolds Water Park. This lovely area is made up of 150 lakes and it is now a largely a recreational area great for watersports, fishing, wildlife and an abundance of nature reserves. A great deal for us all to explore and enjoy.
 A startled heron appeared as we ventured close to the reed beds, the water was so clear and it was tempting to just drop into the water and swim. There was a mix of new contemporary styled cottages close to the lake with large balconies looking out towards us and also a mix of old Cotswold village style lakeside cottages too. The canoe was a great bonus and we all continued to enjoy various adventures throughout the week but also we found the excellent ArtSpa which had a welcome indoor and outdoor pool, sauna and steam room as well as a freezing lake plunge pool for the mad! Tennis court, table tennis, games room kept the younger ones happy and disappearing off on the bikes along the baby River Thames exploring the many trails and footpaths around the many lakes was fun.
Pretty Cotswold villages, welcoming country pubs, riverside restaurants and lakeside bistros were a short walk or drive away. There was even a 'sandy beach resort' with a safe water sports for all ages. A favourite moments were punting on the Thames, biking on the trails, paintball with the kids and the family BBQ's out on the balcony.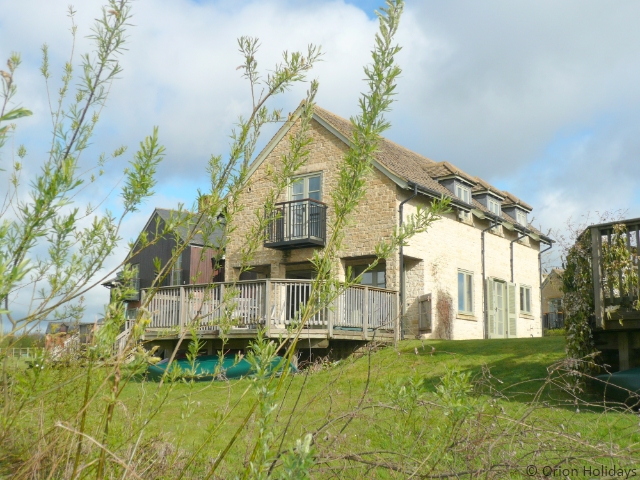 We loved our Cotswold Water Park cottage holiday and will definitely will be back.
Our holiday lodge was booked via Waterside Breaks and we stayed in 'Willows' at Mill Village at Somerford Keynes in the Cotswold Water Park.
About Us: Waterside Breaks specialises in holiday cottages and lodges by water throughout the UK