Scottish holiday by the water – Cottages and Lodges
Scotland is wonderful place to go on holiday as it has so much to offer, for all ages. With a wealth of opportunity and places to explore, it is an adventure waiting to happen. For your Scottish holiday by the water, why not take a look at our wide selection of waterside holiday cottages and lodges in Scotland.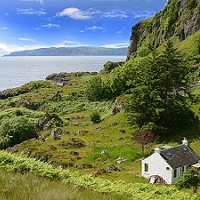 One of the best ways to enjoy the many delights that Scotland and the Highlands have to offer is to go self catering. Rent out one of the many Scottish holiday lodges, log cabins or cottages for either a short break or take the family and go for a week or more. To get a greater sense of the adventure would be to stay in the Highlands, by the sea or one of many of the beautiful inland lochs.
Waterside Breaks offers a wide selection of holidays by the water. To find your ideal Scottish self catering holiday search of one of many wonderfully located waterside cottage holidays, lodges & log cabins throughout Scotland do have a look on the Waterside Breaks website – www.watersidebreaks.com.
Waterside Breaks offers a large variety of choice, from luxury lodges with hot tubs, romantic loch side log cabins and seaside cottage holidays on the West Coast to waterside chalets in the Scottish Highlands. Many properties are pet friendly with a vast selection of trails to enjoy a hearty walk straight from your doorstep.
Fishing is also a very popular pastime, with many cottages and lodges being close to or by the water they make ideal location to take a fishing holiday for families of groups. You can even take out a boat  to give you even greater variety of options including some world class fly fishing.
The choice of locations is a very difficult one as they all offer a great deal and so much but suffice to say that wherever you choose you will not be disappointed.
A log cabin on Loch Tay set in the central highlands offers stunning views of snow capped peaks, forested shores, boat hire, excellent fishing and a wide variety of good quality accommodation. The variety of the Scottish west coast offers easy access to the Highlands and islands and to stay in a lodge or cottage near Oban overlooking the sea would be the ideal choice to set up your base. Further north towards Fort William opens up the views of the highest peaks in the UK with the Nevis range challenging all comers and the stunning beauty and history of Glencoe entices many.
Romantics love the serenity of Loch Lomond and taking one of the luxury five star hot tub lodges is the perfect way to relax, enjoy and soak up the views across the water. The peaceful surroundings at the Lake of Menteith are also the perfect escape as the young Mary Queen of Scots found. Meanwhile those wishing to get away from it all love the remote shores of Loch Awe or the Roshven Chalets out at Lochailort overlooking the Sound of Arisaig at the end of the famous old Jacobite steam railway.
To find out more about Scottish self catering lodges and cottages just visit Waterside Breaks or contact us directly for advice, recommendations and prices and we will be happy to help.
For more information regarding Waterside Breaks Holiday Cottages & Lodges do call us anytime on 01252 339020 or visit our website.