Turn to Waterside Breaks for your next riverside holiday cottage
Who wouldn't like to have a gorgeous riverside holiday cottage, all to themselves, in a suitably idyllic part of the UK? It's why so many people make Waterside Breaks their choice of holiday company. From our website, we can offer you an unrivalled choice of self-catering holiday cottages, log cabins, lodges and holiday parks, running into the thousands.
There's something about the water that has a magnetic attraction for us human beings. Of course, water is a life force, but there's also nothing like being able to gaze out of your riverside holiday cottage at that tranquil, still water – often just one part of a stunning landscape of which we have so many here in Britain.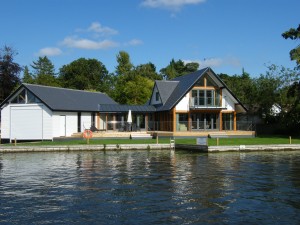 But it's only one thing to have an in-depth range of holiday cottages and lodges to choose from in some of the UK's most appealingly remote and popular locations in close proximity to the water. Of course, choice is important, with Waterside Breaks offering the finest accommodation across such British holiday hotspots as Scotland and the Highlands, the Cotswolds, the Isle of Wight and the Norfolk Broads.
However, Waterside Breaks also recognises the importance of the highest standard of customer service. Our friendly and experienced team can provide all of the impartial advice that you require on choosing your perfect holiday and destination. Whether you desire a riverside cottage for a family occasion, honeymoon, romantic break or fishing holiday, we can assist you in selecting the perfect one.
Those searching for a riverside holiday cottage through Waterside Breaks can also be assured of the best possible price. That's because booking is always direct with each owner at the direct booking price, Waterside Breaks – based in Hampshire – simply serving as the central booking office, as it does on behalf of holiday home owners across the country.
Not only do we offer a great amount of choice of riverside holiday homes, encompassing luxury lakeside Cotswolds cottages, seaside family holiday homes, Scottish lochside log cabins and riverside Norfolk Broads cottages – but we can also cater for your most specialised needs. You may desire a holiday cottage that is especially ideal for fishing, for example, or you may require a dog friendly property or one particularly suitable for larger group celebrations.
Whatever your exact needs from your next riverside holiday cottage, you can be absolutely confident that they will be fulfilled when you make your next booking with Waterside Breaks.
About Us: Waterside Breaks specialises in holiday cottages and lodges by water throughout the UK.