Be Amazed by our Range of Isle of Wight Holiday Parks
It's difficult to think of a more complete island and seaside holiday destination than the Isle of Wight. It's the part of the country that offers something for everyone – families, couples and groups, whether they are visiting on a short break or for an extended period, and whether they prefer fun on the beach, sporting and outdoor activities or something a little more sedate.
Those staying at one of Waterside Breaks' popular Isle of Wight holiday parks can take in attractions ranging from beaches, theme parks and zoo/animal attractions to museums, galleries and stately homes. They can visit towns and villages like Bembridge, Freshwater, Sandown, Ryde, Newport and St Helens, attending such events as Bestival, Cowes Week, the Isle of Wight Festival and the Festival of the Sea.
All the while, guests at Isle of Wight holiday parks are able to participate in walking, cycling, water sports, shopping, fishing, horse riding, boat trips and so many more exciting and relaxing activities. The Isle of Wight has a great variety of fine restaurants with an excellent array of seafood, country pubs, beachside bars & cafes and quaint tea rooms for the gastronomy enthusiast in your travelling party.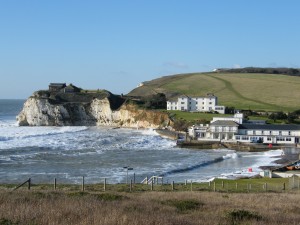 That said, there's no reason to necessarily do much at all on your self-catering Isle of Wight holiday. You may decide that you would simply like to marvel at the wonderfully unspoilt scenery from your holiday home, which is where our range of Isle of Wight holiday parks and self-catering cottages and lodges offers such great flexibility and choice.
You may look to Bembridge, for example, where you'll find the exclusive seaside residence of Ledge House. Containing seven bedrooms that are able to sleep as many as 12 people, this property overlooks the ledges at Forelands, offering breathtaking sea views in an unrivalled location. In Bonchurch near Ventnor, meanwhile, are the Westfield Lodges and Apartments close to the beach, and which boast such popular facilities as an indoor swimming pool, sauna and outdoor tennis courts.
Or if you are seeking the perfect Isle of Wight holiday residence for a family or group of friends, why not opt for Orchard House in Newbridge? It sleeps up to 10 people in four good-sized bedrooms and a spacious living area. Alternatively, you may consider the gated Tollgate Premier Chalet development in Seaview, only 50 yards from the sandy beach, or the peaceful rural backdrop of the Pondwell Chalets nearby.
Enquire now about a great deal on your next stay in one of our popular Isle of Wight holiday parks here at Waterside Breaks.
About Us: Waterside Breaks specialises in holiday cottages and lodges by water throughout the UK.