Waterside Breaks – Explore the Great British Countryside
With a huge selection of English, Welsh and Scottish holiday lodges across the Great British Countryside, Waterside Breaks have something suitable for everyone whether it's a weekend getaway or a full summer holiday. From self catering Isle of Wight and Norfolk Broads holidays to cottages in the Cotswolds, our lodges are in prime locations from which to enjoy what the area has to offer.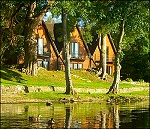 The UK is known for its regional diversity in food, culture, heritage and geography. It's incredible to think that all of these places are within a day or two's drive, or a relatively quick train or plane journey too. From marvelling at The Needles rock formations in the Isle of Wight to exploring the whisky distilleries in the Hebrides – not in the same day obviously – and everything in between.
England and Scotland are also famous for their maritime traditions, with shipwreck museums on the Isle of Wight, 200 miles of navigable waterways in the Norfolk Broads, all the way up to quaint fishing villages in the Highlands of Scotland, as well as searching for the Loch Ness Monster. The landscape and activities available also make it ideal for those who are after a more active holiday, with hill walking on the Highland glens, spotting Avocets on the Norfolk Broads, or enjoying the Cowes Sailing Regatta.
There's so much to do, but if you time your visit with one of the local festivals like the Isle of Wight Festival, Latitude music festival in Suffolk or Hogmanay and the Fringe Festival in Edinburgh, you can really make the most out of the surroundings.
Our log cabins in Scotland, England and Wales are all ideally situated and comfortable, so take a look around the rest of the website to see the huge range we have on offer. Some of them even have hot tub jacuzzis and swimming pools for you to enjoy, that is when you're not busy exploring the surrounding areas.
The majority of our cottages in all our locations are right on the water's edge, making them perfect for fishing holidays in particular. At plenty of places you'll find a wide range of other water activities too, from hiring boats or canoes to enjoy the Norfolk Broads at your own leisure, scuba diving in Berwickshire, Scotland, or just lazing on an Isle of Wight beach.
Whilst the UK is at its best when the sun shines, us Brits have learnt to get on with life whatever the weather, and there's plenty to do even if it pours with rain. There are cathedrals and museums to see, art galleries and exhibitions, or even just sampling the local entertainment or a traditional public house.
So if you're considering a short break or a longer stay in one of our Scottish holiday lodges, or a self catering Isle of Wight holiday, or anything else for that matter, get in touch with Waterside Breaks today to find out more about our properties on offer. You can also check prices and availability, as well as finding out more about the idyllic locations in which they're set. We hope to hear from you soon.
About Us: Waterside Breaks specialises in holiday cottages and lodges by water throughout Scotland and the UK