Fishing Holiday Lodges & Cottages in the UK
With holiday lodges and cottages all by the water, Waterside Breaks can offer many lovely fishing holiday lodges & cottages in the UK.
With many locations offering superb, specialist and expert fishing there is a great deal of choice for all abilities. Choose from contemporary New England style holiday cottages at the Cotswold Water Park in Wiltshire and specialist carp lakes in Somerset down to family friendly lakeside fishing lodges and cottages in Cornwall, some with hot tubs and also on site facilities to suit all ages. Many locations offer short fishing breaks all year round and over 50% welcome pets.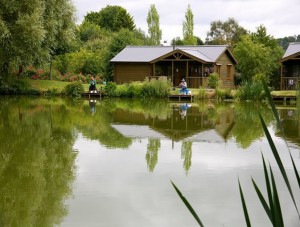 For a brief selection of fishing holiday lodges & cottages options do see the following (there are sadly far too many to list individually):
Lake Pochard Lodges, Cotswolds Water Park – 2 & 3 bedroom holiday lodges on well stocked fishing lakes – Specialist Carp & Coarse fishing
Spring Heath Fishery & Log Cabins, Oswestry, Shropshire – Superb new 2 & 3 bedroom holiday log cabins – Specialist Carp & Coarse Fishing
Rosecraddoc Manor, Liskeard, Cornwall – Selection of lovely cottages & holiday apartments set in grounds with private fishing lake. Coarse Fishing – Carp, Roach & Bream
Peninsula Cottages, Wroxham, Norfolk Broads – Riverside & Marina Based Holiday Cottages close to Wroxham Village on the Norfolk Broads – Excellent river & pike fishing.
Loch Tay Highland Lodges, By Killin, Perthshire, Scotland – Salmon & trout fishing at Loch Tay – 1, 2, 3 & 4 bedroom holiday lodges & boat hire
Loch Awe Lodges, Dalavich, Scottish Highlands – Loch Awe is Scotland's premier 'Wild' fishing loch with a selection of lodges and cabins situated in over 50 acres of Inverliever Forest
Lochend Chalets, Lake of Menteith, Stirlingshire, Scotland – 'Award Winning' Trout Fishing with selection of lodges overlooking Lake of Menteith
South View Lodges, Exeter, South Devon – Fantastic lakeside Lodges with outdoor hot tubs with three well stocked coarse and carp fishing lakes, situated within 6 acres of a peaceful Devon valley.
Herbert Woods Marina, Potter Heigham, Norfolk Broads – Marina based waterside cottages at Potter Heigham – Coarse & pike fishing.
Do visit our website www.watersidebreaks.com to view a wide selection of fishing lodges and cottages by the water, search our availability and book online. Alternatively, please call us on 01252 339020 for advice and ideas.
About Us: Waterside Breaks specialises in holiday cottages and lodges by water throughout the UK