Isle of Wight holidays have so much to offer
It's easy to forget just how much there is to enjoy on Isle of Wight holidays like those that we can offer here at Waterside Breaks. Sure, England's second largest island is certainly acclaimed as a short break destination, with its impeccable combination of stunning natural scenery, enticing beaches and eye-catching attractions and things to do… but there's even more to it than that.
We should know, given the great quality and value of our available self-catering holiday accommodation in the area. Whether you're looking for a cosy cottage, a sumptuous seaside apartment, an alluring lodge or a similar type of property, we'll sure that we'll have something perfect for your short stay on the Isle of Wight.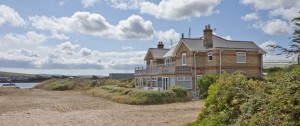 Whichever time of year you visit the Isle of Wight, there will be something great for you and/or your family to enjoy. If you're the energetic and outdoorsy type, for example, you're sure to be amazed by the island's broad range of available land and water-based activities, from sailing, canoeing and windsurfing to biking, horse riding and good old-fashioned walking. Indeed, there is a great choice of walking and cycling trails, both easy and challenging.
If you'd prefer a more sedate experience on your Isle of Wight holidays, however, you're still in the right place. More than half of the island has been designated an area of outstanding beauty, so you can expect a host of stunning natural landscapes to marvel at. But this is also a great place to find delightful country and seaside pubs, fine restaurants, historic houses and art galleries.
Do you need some more specific examples of the wealth of things to do and see on your Isle of Wight holidays? Well, why not take in such beaches as Compton Bay, Freshwater Bay or Ryde Beach? Or perhaps it's animal attractions like the Isle of Wight Zoo or Owl & Monkey Haven that would be more to your liking?
Or, for an Isle of Wight attraction unlike any other, pay a visit to Fort Victoria, a single tier battery with defensible barracks that was constructed on the island's north shore in the 1850s to guard the Solent. Later used for military training as well as a submarine mining centre, it's now home to various individual attractions in addition to making a fine historical attraction in its own right.
Enquire to the Waterside Breaks team now about our vast range of self-catering holidays on the Isle of Wight.