Holiday ideas on South Walsham Broad in the Norfolk Broads
South Walsham Broad
Overview
This picture perfect broad is home to some of the most amazing woodland walks anywhere on the Norfolk Broads, which take you right up to the waters edge. Enjoy boat trips, canoe trips and see if you can spot some of the local wildlife. It's easy to get to thanks to it's convenient location close to Wroxham and Norwich, so no matter where you decide to stay on the broads, you will never be too far from this beautifully natural destination.
Location
South Walsham Broad is located approximately six miles to the southeast of Wroxham, the capital of the Norfolk Broads. It's also only ten miles to the northeast of Norwich, so you'll be able to reach it in no time. (Please refer to map for details).
Attractions
One of the most popular attractions at South Walsham Broad is Fairhaven Woodland and Water Garden, a fantastic natural attraction based within 131 acres of ancient woodland. Here you will find a selection of wonderful woodland trails leading you through lush greenery to the edge of South Walsham inner Broad. From here you can enjoy stunning views of the water and there are many spots nearby that are ideal for summer picnics. There's plenty of parking here and there's even a café in the visitor centre, where you can enjoy a coffee and a slice of cake. Plants and bulbs are regularly for sale her too, so keep an eye out for some beautiful species to add to your garden.
A short walk away from Fairhaven is The Ship Inn, which is the perfect place for refreshments during your time exploring South Walsham Broad. Here you will find a superb menu filled with delicious dishes, so you won't be able to resist staying for a meal too! This modern pub and restaurant is superb in every way, so why not stop for a bite and try the local real ales while you're there.
South Walsham Village is about a mile from the edge of the broad and is well worth exploring on a sunny day. Here you will find a number of lovely thatched cottages, red brick homes, a village store for refreshments and two churches, the parish church of St Lawrence and the parish church of St Mary. These are both beautifully designed and offer stunning interiors that you can experience for yourself when their doors are open.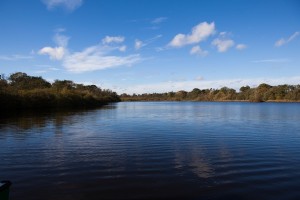 Activities
When it comes to exploring the Norfolk Broads, there's no better way to see it all than by taking to the water, so why not try the guided canoe trips from Fairhaven Woodland and Water Garden. These will give you the opportunity to experience a broad, which is inaccessible from the main broads network, so you'll be seeing parts that not everyone gets to see! To make the experience even better, the low boat traffic means that there is much more wildlife around the edge of the broad that freely roams. The canoes remain silent, as they glide across the water, increasing your chances of seeing some amazing species.
If you've never been in a canoe before don't worry, you'll be given the chance to get used to it in a small dyke before heading out onto the main broad. But if you would prefer to let someone else do the steering, why not jump onboard the large motorboat, which takes visitors on a tour of the broad.
Walking is another popular way to experience the best of the Norfolk Broads, so you can expect to find numerous trails in and around South Walsham. Some of the best trails can be found within Fairhaven Woodland & Water Garden, as they are well maintained, safe and offer an unbeatable woodland trail experience. Wander through the trees at your own pace, cross the streams via the small wooden bridges and follow the wooden walkways through flooded forests. It's a spectacular environment that really can't be missed.
Wildlife spotting is also a popular past time here, as the surrounding area is home to a staggering number of animals such as bitterns, glebes, stalks and even otters! Binoculars are recommended, as they can blend in perfectly to the surrounding landscape and why not bring your camera along just in case.
Parking
For easy access to the broad, the best place to park is at Fairhaven Woodland & Water Garden. The car park is spacious and open, making it ideal for larger vehicles. Once you've chosen the perfect parking spot, head to the visitor centre where you will be able to access to many woodland walks that lead to the broad. Don't forget, there's a fee to enter but it will be well worth paying. There is also a free car park on the corner of Kingfisher Lane and Broad Lane, which is within easy reach of the water. It's quite compact, so you may want to avoid it if you'll be arriving in a large vehicle.
Experience everything that South Walsham Broad has to offer by booking a Norfolk Broads cottage holiday today. If you have any questions, please feel free to contact our team direct on 01252 339020.