Search for log cabins holidays in Scotland around the delightful Loch Tay
The central Highlands of Scotland may be home to many delights, but there can be few better than the freshwater loch widely recognised around the world as Loch Tay. A remarkable dark stretch of water measuring some 15 miles (24km) long and around 508ft deep, it is Perthshire's largest loch, as well as the deepest in Scotland.
As you might expect, Loch Tay is an in-demand destination among those seeking log cabins in Scotland, being especially popular with salmon fishers. However, in common with much of the rest of the country, it is also a significant draw for those with an interest in all things natural and historic. There is certainly plenty to see in this especially picturesque part of Scotland.
It is impossible to visit Loch Tay, for instance, without being wooed by the magnificent Ben Lawers mountain range to the north, much of which is designated as a National Nature Reserve. But the loch also attracts many sailing and water sports enthusiasts, while if you are looking to sunbathe, you just can't beat the small shingle beach near the village of Kenmore.

Indeed, Kenmore is one of the biggest settlements on the lochside, at the point where Loch Tay drains into the River Tay. A model village laid out by the 3rd Earl of Breadalbane in 1760, Kenmore is naturally rich in history, being home to the 19th century Taymouth Castle and the Kenmore Hotel, the latter commissioned in 1572 and said to be Scotland's oldest hotel.
Another must-visit in Kenmore for those wishing to learn more about Loch Tay's rich past is the Scottish Crannog Centre, which authentically recreates an Iron Age loch dwelling to tell the story of life here 2,500 years ago. 'Crannogs' are the defensible, man-made islands on which Iron Age people used to live on lochs like Loch Tay, which is known to have more than 20 submerged crannogs.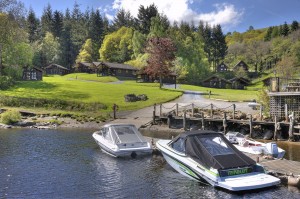 The other main settlement near Loch Tay, to be found at the head of the loch, is the village of Killin. There's so much more to see and do around the loch, including trying out the 'Waterfall walk' in Acharn village, where power boating and waterskiing can also be experienced. Naturally, you're also well-placed here to discover the wider delights of Scotland.
We certainly couldn't think of a better reason to investigate the best log cabins in Scotland than the opportunity to spend a holiday in the idyllic Loch Tay area.
For more information regarding cottages and lodges by water do visit Waterside Breaks