Great Things to do on a Norfolk Broads Holiday – Whitlingham Country Park and Broads
Whitlingham Country Park and Broads
Overview
Whitlingham Country Park is home to two stunning broads, a fun filled activity centre, fantastic woodland walks and more, making it the ideal place to visit during your Norfolk Broads holidays. It's conveniently close to the city of Norwich and lies on the River Yare, which connects to the other rivers and broads where you will find villages including Wroxham and Horning on the River Bure.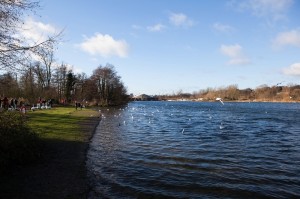 Location
This beautiful park can be found around two miles to the east of the fine city of Norwich and around eight miles to the southwest of Wroxham. Please refer to the map below for details.
Attractions
Whitlingham Great Broad is without a doubt the main attraction within the park, as it covers an impressive area and helps to create the perfect environment for many species of wildlife including birds and fish. Sit by the water on a warm summers day and enjoy watching the many ducks and swans glide across the waters surface. If you explore the park on foot, you will come across Whitlingham Little Broad, which lies to the west. This is another lovely natural area, which is relatively undisturbed.
If you're feeling active then you'll love the Outdoor Education Centre, which offers a range of family friendly activities. There are many walking trails too that are wheelchair and bicycle friendly. There's a large grassy area close to the visitor centre, which is perfect for summer picnics. There's plenty of space for the kids to run about and they'll love exploring the woodland.
Just a stones throw away from the park is the city of Norwich, which is well worth visiting while you're in the area. It's so close in fact that you will be able to walk to it quite easily and vice versa should you decide to park in the city itself. You will find many shops and restaurants, as well as many historic attractions including Norwich Castle, which houses an impressive museum. There are many other museums around town and many awe-inspiring buildings including Norwich Cathedral.
Activities
The Outdoor Education Centre is the place to be for fun activities on the water, as it allows you to try a number of water sports including kayaking, sailing and windsurfing. These are superb for keeping everyone over 8 years old entertained and there are even activities to take part in on land such as archery and rock climbing!
As well as water sports, you will also have plenty of walking opportunities thanks to the selection of paths and trails. There are some lovely short walks through the woods close to the picnic area by the car park, which are great for smaller children. If you want to see the great broad from all sides, there is a circular walking route you can take, which will lead you around the edge of the water and back to the car park. These are also fantastic cycling routes, so feel free to bring your bike along for a wonderfully scenic bike ride around the water. You never know, you may get to see some of the amazing wildlife that lives within the park and surrounding area.
Whitlingham Country Park marks the start of the Wherryman's Way Walk, one of the regions longest and most popular walking routes. This will take you from the outskirts of Norwich along the River Yare, passing through many beautiful places including Rockland Broad. It finishes in the coastal town of Great Yarmouth on the east Norfolk coast, where you will find the start of the even longer Angles Way walk.
Parking
You won't have trouble parking here thanks to the large car park next to the visitor centre. However, please be aware that this is a pay & display car park, so don't forget to bring some change! As soon as you've parked up, you will be a able to start exploring the broad. Why not get your bearings by taking a walk around the main broad before heading to the activities centre.
See this beautiful park and experience everything that comes with it by booking your Norfolk Broads holiday cottage today either online or by calling Waterside Breaks direct on 01252 339020.