Favourite destinations for UK holidays for single parents
Fancy something totally different from the standard sun, sea and sand formula? Many thousands of British holiday makers already are. Our holiday destinations, including the Norfolk Broads and Scottish holiday lodges have seen a dramatic increase in their popularity in recent years with the recession paramount in helping people rediscover their own back garden instead of forking out for expensive foreign holidays. In fact, the Norfolk Broads are a favourite destination when it comes to booking UK holidays for single parents.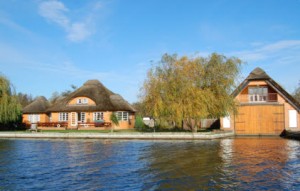 According to singlewithkids.co.uk however, the reason for the increased popularity is the proximity and no requirement for vaccinations, passports and foreign travel insurance. These are probably key factors for single parents already preoccupied with controlling their hyperactive kids!
Aside from the ease of a British holiday, the UK has some spectacular scenery you need not travel far to see. Waterside Breaks have a great selection of log cabins in Scotland for you to choose from. The Scottish Highlands are increasingly becoming a popular tourist destination for thousands of Americans, and yet many tourists from south of the border fail to experience the mountainous landscape and stunning scenery.  Why not treat yourself and the family to a holiday in one of the Scottish log cabins, and exhaust your kids hiking and clambering around the best of Scotland.
If however your kids are a little younger and mountaineering sounds like an unsuitable holiday activity, the Norfolk Broads holidays are a serene, yet equally beautiful destination. The Broads are literally teeming with wildlife and you can thrill and captivate your child's imagination with glimpses of the lightening blue kingfisher, booming call of the bittern and playful antics of the otter. You can really get lost in this Swallows and Amazons wonderland, although you hopefully won't drift out to sea like the unfortunate characters in Arthur Ransom's bestseller. The Norfolk Broads really are ideal for family sailing & boating holidays.
Speaking of which, The Isle of Wight is also a great casual holiday for a small family with a nautical interest. Waterside Breaks offer self catering Isle of Wight holidays that are well worth checking out. The Island puts on many international events and carnivals including Cowes Week Regatta, The Isle of Wight festival, Bestival, and most importantly for the kids, Pirate Island!  This fun filled weekend at the end of July has over 80 different actors telling tales of the high seas. The Soap Box Derby on the 26th of June is also a sure-fire crowd pleaser as numerous young men race their homemade contraptions.
Also why not try timing your weekend break with one of the local music or cultural festivals. Latitude in Norfolk, The Fringe Festival of Edinburgh and the previously mentioned festivals on the Isle of Wight festivities are all children friendly and its often encouraged to bring your kids along. But if you can't stand the idea of camping, Waterside Breaks can offer flexible weekend breaks to suit around your needs. So if you're planning a UK holiday next year, consider Waterside Breaks' various holiday locations that your children will remember for weeks after your return home.
About us: Waterside Breaks specialises in marketing, promoting and offering high quality Scottish log cabins and holiday lodges and Norfolk Broads holidays.  We offer personal service to all our customers whether they require log cabins Scotland, or a self catering Isle of Wight holiday.